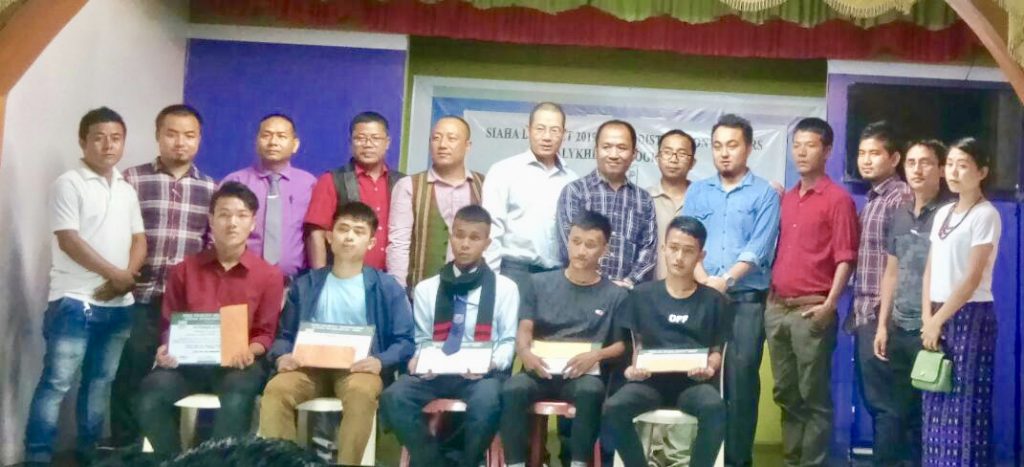 SIAHA, 20th Patô, 2019 – MSO Gen. HQ ta Siaha District tawhta HSSLC (Class 12) Exam 2019 liata Top 7 nata Distinction Holders zy alykheina program cha NSV Studio liata ahmâpa a châ.
He daihti he Pp. Beihlaotlo Syuhlo, Asst. General Secretary MSO HQ ta chhihtha ta, Pp. T.A Beihnia Advisor MSO HQ ta daihti zy Khazohpa hnohta apavaosa khai tawh ta, Khichhai Laipa Pp. Beirahmo Syhly E.M i/c Sports and Youths Service ta biereihna hnei ta, Achuhaipa zy achhuana sia kawpa ama hnei awpa apeimaw zie nata Mararâh chata tiama papua awpa a byuzie ta a pasyu ei.
Ls. Merina Hlychho, Mara Idol 2017 ta hlasana hnei ta, HSSLC Siaha District Performance Report Pp. Judson KT Zephatha, Education Secretary MSO HQ tawhta nathliepa a châ hra.
Pp. S. Vabeihasa, Sr. Advisor MSO HQ ta Achuhaipazy hnohta pasyuna pha kawpa reina a hnei khai tawhta Lymâ raina Pp. Elson Eliasah Notlia, Treasurer MSO HQ ta chhihtha ta, he daihti he Pp. T. John Tennyson, Games and Sport Secretary, MSO HQ ta Vote of thanks reina ta a pachhâsa.
He Programme liah heta Top 7 manôh pa 2-zy hleikhô ta Distinction Holders pa 9 nata 1st Division pa 1(Pwd) zy hnohta alykheina Ryuchâ nata phusâ piepa ama châ.
He Program liata Refreshment he Khichhai laipa ta avaw tôh ta, eimâ ly ngâsâ ha.
Issued by: MSO Gen. HQ