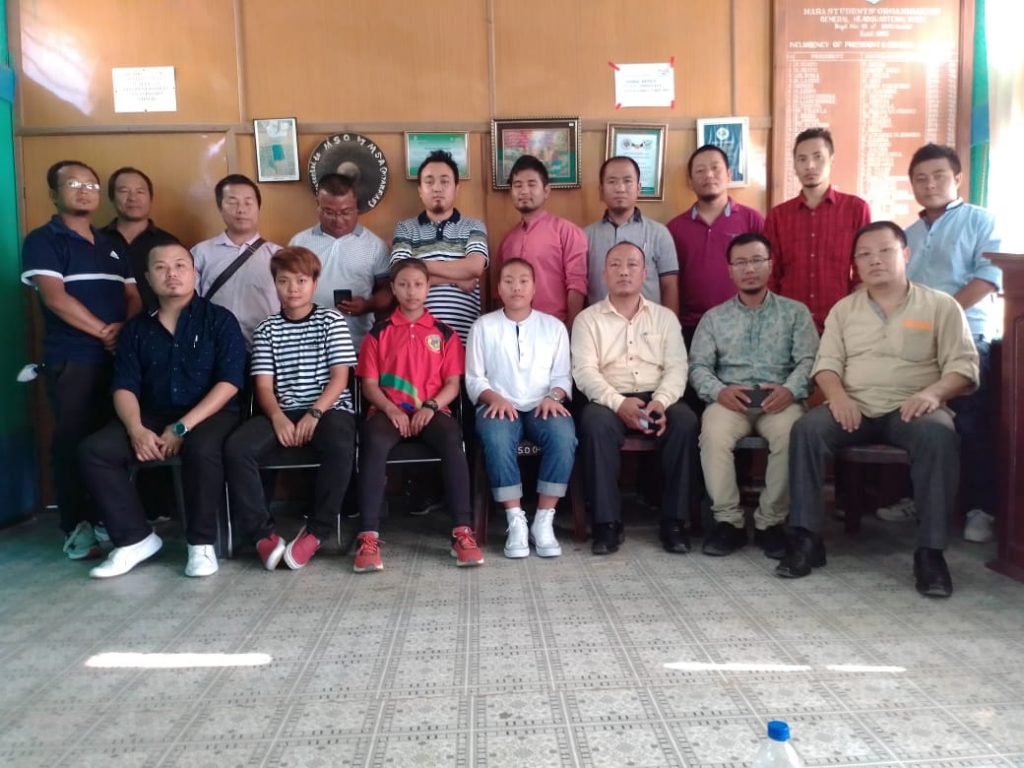 SIAHA, 22 Patô, 2019 – Atanoh zâlâ dawh 2:00PM khata MSO Gen. HQ ta MSO member hry tawhta National Level Sports Competition liata â hlao theipazy palyupalihna daihti hmâpa a châ.
He daihti he K. Vabeichhitha, Secy i/c I & P ta chhihthana rai hria ta, Elson Eliasah Notlia, Treasurer ta Abeipa lâta daihti pavaosana a hnei khai tawhta biereina nata palyupalihna daihti hmâ pazipa a châ.
He palyupalihna daihti liana heta Pp. Robertson B. Khithie, Chairman, SDFA Womens Wing ta report sianô kawpa piena daihti nata pasyuna pha kawpa reih ta, anota a reih khai tawhta Pp. Beirahmo Syhly, President, SDFA ta alykheina bie reina nata pasyuna pha kawpa reih ta, programme ahlaopazy chhaota amâ thôkhei kaw sai hra, he hawhta Marasaw sports lâchhâ ta a uasapa nôpaw eima hneipa he eimâ palaikhei hmeiseih.
Pasyuna pha kawpazy nahthliepa a châ khai tawhta, Pp. T. John Tennyson, Secy i/c G & S ta palyupalihna eima hneipazy lymâ raina daihti a hmâh. Atanoh ta MSO member palyupalihna eima hneipazy cha,
Hero Junior Girls National Football Championship liata ahlaopazy
1) K. Ngopawdi D/o K. Lalthlana, Gov't Siaha HS
2) Sandra Beipiesô Notlia D/o NT. Lalringlina, JPS
3) Esther Lalchhuanawmi D/o B. Lalrinmawia, Ardee Diamond
Boxing Federation of India 1st Sub Junior Women Women Boxing Championship, 2018
1) L. Vanlalduatsangi D/o L. Khaichyu
Don Bosco
Lymâ raina hnei khaipa a châ tawhta, Pp. L. Khaichyu nata Pp. FC. Minela, President, SiDBA zy tawhta pasyuna pha kawpa nahthlie pazipa a châ.
Daihti chhâna liata Pp. Cliff Richard, ECM ta alynabie reina hnei ta, alynabie a reih khai tawhta Pp. FC. Minela ta thlahchhâna hnei ta, daihti pachhâsapa a châ.
Atanoh ta eima palyupalihpazy he hmialâ ama sie lymâ n'awpa liata hlaotlohna pha viapa to lymâ awpa ta MSO Gen. Hqrs, Siaha ta khokheina sâh chaipa eima hlâ hmeiseih.
Issued by:
MSO Gen. HQ, Siaha