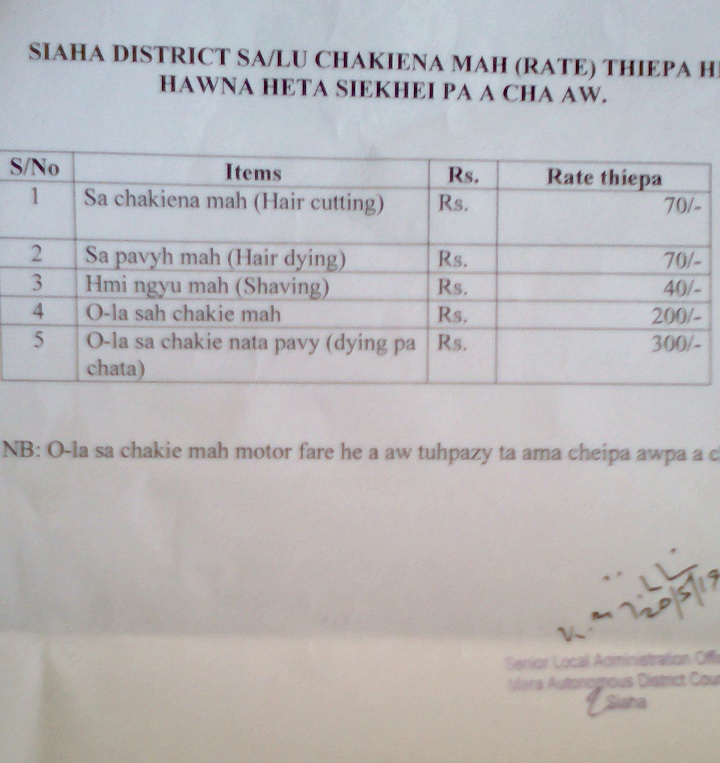 Local Administration Department, Mara Autonomous District Council, Siaha Order No.MADC.50.LAD/2018 -2019/ : Dated Siaha, the 20th May, 2019 bie hawh ta, 1st June,2019 (Saturday) noh tawhta Siaha khichhôh liata sâ chakiena mâ Rate thiehpa ta hmâ bâ awpa a châ tahpa zawpizy eima cha pahnosa.
Zawpizy chhaota he eima Rate hmâ awpa liana he ta miah apykhei chyupa ta, miah namâ daoh pazao lymâ awpa ta eima châ haw hmeiseih.
New Service Rates :
Hair cutting : ₹.70/-
Hair Dyeing : ₹.70/-
Shaving : ₹.40/-
Outside Service Rate (O – lâta aw mâ) :
(1).₹. 200/- per Head.
(Only hair cutting)
(2). ₹.300/- per Head.
(Hair cutting with Dyeing)
Note :
O lâ ta awpa he, a awtuhpazyta Motor fare a ma cheih aw.
Sd/- Secretary
Siaha Barber Association,
Siaha.