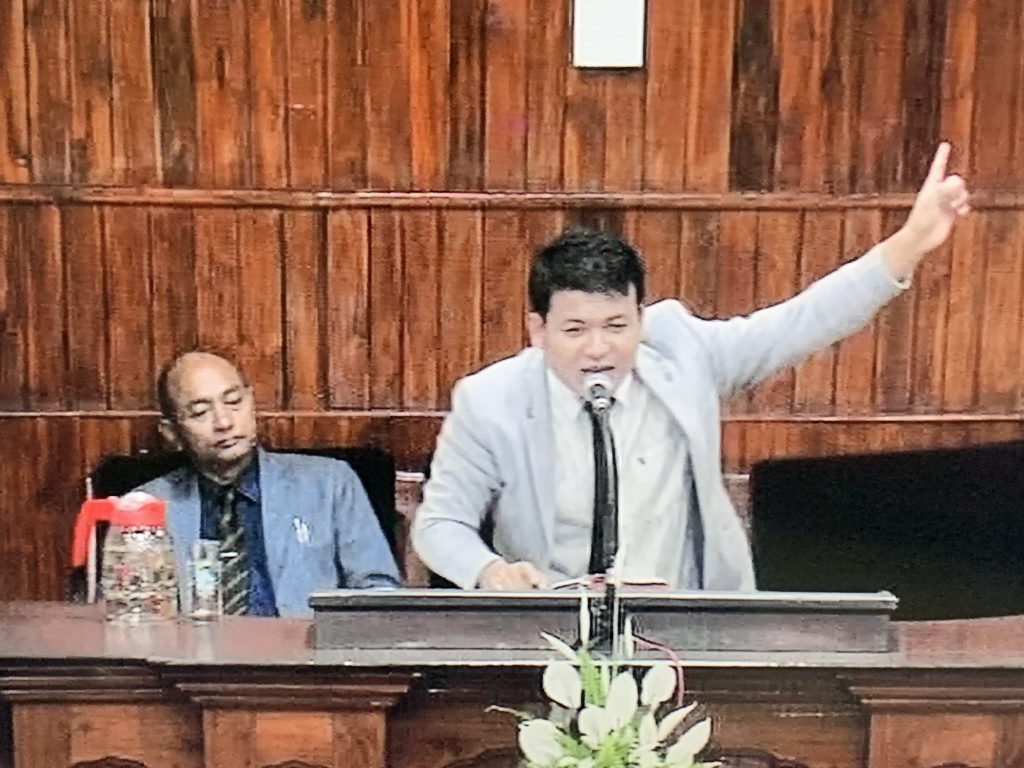 SIAHA, 12 Khihpa, 2019, Chutyhnoh (Beirôkhu Beitâ) – Bethel Ministry Speaker Frederick Lalrindika chakaona TLÂHNA CRUSADE cha ECM New Colony Local Church liata hnei ngâhaipa châ ta, atazâ cha ei KTP sahlaozy siesaipa ta Programme ahmâ hra awhpa New Colony Achhyna O cha ei vaw pangai ha hra.
Dawh 4:30 Pm liata asu vaw tlô ha taraw na ta, Achhyna O chhôh cha avaw full hmâ ha ta, Hall lâ liata angia awhpa ta direction piepa ei châna hawh ta Hall cha ei pangai hra.
New Colony KTP manôhzy hry tawhta laihsa nata satlia hmipha, sia kawpazy chata USHER vaw châ ei ta, ama hmiaphaozie tawhta atyuna cha rei lâlao lei, aduana hmahta a y khao lei awhpa pahno theipa a châ.
Usher zy chata chyhsa molai mochyh pathluana rai rai hnei leipa ta atyuna ruapazy cha, zawpi avypazy pahmô laih lymâ ei ta, ama chakaona arônah ei vaw tah kaw.
Dawh 7:00 Pm liata Programme pathao awhpa ta dawh 5:00 Pm tawhta atyuna su hmopa liata vaw hâpa cha rairu a tahpa ama y nahta vaw pangiasa na ta, anodeikua, avaw heih-hâ na ta, rairu a tahpa hmi aphaohpa rai y tlâ leipa ei ta, hawti, machâ, alai achyh ta amâ ly kaw saipa ta ei pahno.
Dawh 6:00 Pm liata eimâ tyuna hmia liata Big Screen (Projector tawhta kapa) cha vaw khaih ta, O chô liata Programme ama pathaopa cha eima vaw hmô thei ha hra. (O lâ liata Cable TV tawhta ama vaw hmôpa kha he Big Screen liata palâsapa a châ.)
7:20 Pm liata Speaker bierei chakaona a hnei pathao.
CRUSADE lâ aheipa ta:-
He Crusade he Khazohpa lâ ta Tlâhna hiana Crusade a châ tah ei si la, eima pahno thaina dâh a châ via ngyu aw.
Pakhyna Service hnei tyhpa hawh ta daihti pathaona lâ liata Khazohpa bie nahthlie tuapa châ ta, he khai tawhta Thlahchhâna nata Music – hla ahlaopazy nata ahlao leipazy ta tao pahlao lymâpa a châ. He daihti liata Khazohpa lâ hiana thlahchhâna cha hnei pâ lymâpa a châ.
He khai tawhta Khazohpa tawhta tlâhna atopazy cha Pulpit ry lâ awpapuapa châ ei ta, Khazohpa rônahna awhpa ta avaw tlâh hapazy cha ama pasana nata tlâhnazy cha pareisapa ama châ.
Tlâhna Crusade he târi 9 Khihpa, 2019, Hriaheinoh tawhta hnei pathaopa châ ta, târi 14 Khihpa, 2019, Khazoh noh liata pachhâsa awhpa ta ryhraona taopa a châ.
Târi 11 July, 2019 liata Speaker nata a Team zy ta eima Missionary na pahrâna Saikao khih tly ei ta, he liata Speaker ta thlahchhâna ahneina liata Mararâh byhnâ eima vaw to theina awhpa nata Khazohpa tawhta ahrana avaw tlô heih theina awhpa ta cha Awnanopa apôhkha tua awhpa apeimawh zie a reih.
Thlah a chhâ pazaona liata he apôhkhana chakaona rai hria awhpa ta chhaichhi ta ahmâ khohpa ta a châ khiah ano nata a team member zy chhao apie pasaih ei ta, amâ mâ zie a reih.
Frederick he Saikao a tly hlâta zâ 2 chakao tua ta, Saikao a tly khai tawhta a zâ 3-na liata a chakaona liata a biereipa siezie athla ha ta, Mararâh saiheina nata Khazohpa ta a taopa Mara chyhsazy, Khazohpa chyhsa ama châpa vâta Khazohpa lâta ahniapa ta tlâhna ama vaw to awhpa a khokheina thlahchhâna liata a pahlao.
Siaha New Colony Achhyna O he Apakhyna O nata Hall ypa ta chhâ 2 lâ liata zawpi y pakhy theipa châ ta, atazâ chhao chhâ 2 po ta zawpi bie khai ei ta, atyuna hnei leipazy ta siphiah liata amâ tyuh hra.
Achhyna O building khôtho lâ liata Achhyna O compound chhôh, Achhyna O pangaina Step liata chyhsa hluhpi amâ tyuh hra.
Atazâ liata a bietana a reipa Topic cha KHAIH-NA tahpa châ ta, Rev. RA. Lorrain ta Mararâh pakhaihsa awhpa ta bietana a rei tua chaipa ARISE & SHINE kha a sôpi chaipa a châ.
Anodeikua Awnano adyhna chhao, Thlahchhâna liata a pahlao hapa hawh ta atazâ cha Sermon liata a reih papua haw.
Atazâ liata patlâh-na atopazy hry tawhta alâluah viapazy Ahripa ta a pabuapa nata Saw sa tawhta Thla 8 chhôh phei ta sie thei khao leipa phei ta siepazy ama châ.
Atyuduana rairu kawna chô ta New Colony Awnanopazy reithai tlâh châ ei ta, Awnano manôh zydua, ama hriapasa zie hmô theipa a châ. Khôtho lâ liata motor zy vaw buakhei awhpa ta KPP nahzy reithai tlâh châ ei ta, siahlia kawpa ta zawpi ama mohôh thei hra.
Sapa nata Thlahpa tlâhna hnabeiseihpazy ta he patlâh chakaona he ahlao cheingei awhpa ta eimâ khokhei kaw hra.
(Arohtuhpa: Beirôkhu Beitâ, Admin, MNN)