ECM Headquarters, Siaha – General & Mission News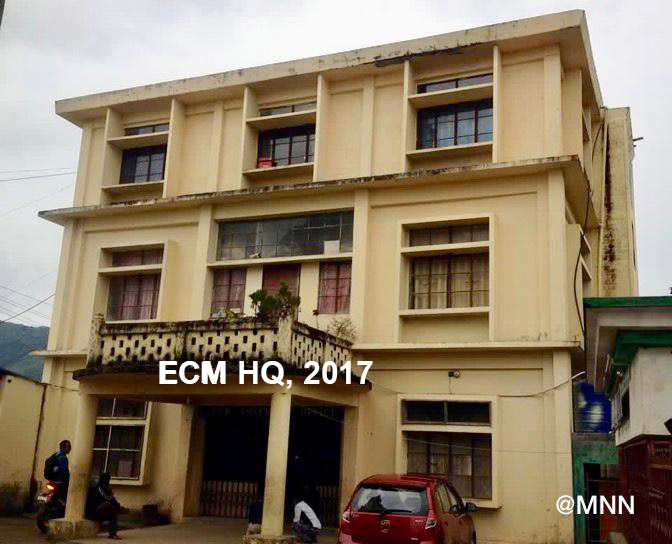 SIAHA, 3 Thlazoh, 2019, Abeipanoh (MNN) – Ary liata palâsapazy he târi 28 July, 2019 tawhta târi 3 August, 2019 chhôh liata Evangelical Church of Maraland Headquarters chakaona liata thâtih nano nanopa palakhypazy a châ.
1. SENIOR EXECUTIVE SECRETARY:
Târi 3 August, 2019, zâhnia kha ta Rev. Dr. Laiu Fachhai, Senior Executive Secretary cha United Theological College(UTC), Bangalore liata Meeting peimawhpa ahlao awpa ta Siaha puasai ta. Â ryhpaohna hawh ta Union Biblical Seminary(UBS), Pune liata Board Meeting chhao â hlao pâ hra aw. A y lei chhôh ta Executive Secretary i/c Mission ta charge a la chy aw. Apalâ kawpa ta Programme â hlao theina awpa ta thlahchhâkhei suh vy.
2. TIWA MISSION:
1). TEM Meeting hnei
Atahmâ hâta târi 3rd August, 2019 (saturday) liata Tiwa Evangelical Mission(TEM) Field liata hriatuhpa Missionary meeting hnei pa châ ta. He meeting liata Missionary nah zydua ama puapha kawpa ta pahnopa a châ.
2) New Life High School: New Life High School cha târi 1st August 2019 noh liana khata School pathao (Re open) pa châ ta. Adaihti ta liata school ama pathao heih theipa vâta Abeipa liata alyna bie reina thlachhâ khei ei suh u.
3) NLHS Compartment exam result: New Life High school tawhta Class-X students Compartmental exam manôh 6 liata manôh 3 zyta hlao tlohna pha kawpa vaw hnei ei ta, hriatuhpazy ta ama ly ngaita kaw. Exam na liata hlaotlohna ahmôpazy chata Abeipa lâta alyna bie rei khei awpa nata hlaotlohna avaw hmô mah leipazy châta hmialâ daihti liata hlaotlohna phapa ama vaw hnei thei nawpata thlahchhâkhei ei suh u.
3. MISING MISSION:
1). 28 July, 2019 liata Koliya tawhta Iaka Pegu cha Rev. L. Lychhua FD ta bâti a pachâsa. Abeipa chô liata hriatuhpazy ama ly ngaita.
2). Mission station liata quarter sa pathao hapa châ ta, a kawhna lâ he 15'30 a châ. Mistiri zy ta rairuna y leipa ta a daihti ta liata ama patlô thei n'awpata thlahchhâkhei suh vy.
3). Summer vacation hmâ khai tawh, 1st August ta Holy Grace School cha pathao hapa châ ta, school avaw kiahpa deikua ama chyh kaw chy.
4). 3rd August, 2019 liata field worker zy Fasting Prayer, Immanuel church liata hneipa châ ta, Leader Ranjit Pachung, thlahchhâna biepipa: "Christian Giving" a châ.
4. ODISHA MISSION:
1). Atahmâhlâ Kandhamal lâta eima Missionary nah nata Local Evangelist nahzy ta Oriya hla nata Kui Hla zy hlabu pachhuapanoh n'awpa châta hla la pakhyna nata Roman Script ta paliena raih ama hria ngâhai.
2). Tari 30 July, 2019 khata Kandhamal lâta hriatuh penawhzy chakaona liata thatlôna ama hnei via lymâ theih n'awpa ta apasyuna nata thlahchhâ paraona ama hnei.
3). Atahmâhlâ chakaona hnei ngahaipa liata Sargamilla khih liata eima Missionary nahzy Abeipa ta chakaona awpa apie nahta hnabeisei ngahaipa a châ. He khih liana heta krizypa odyh 3 y ei ta, Abeipa ta âryh ta sala, house church ama padua cheingei theih n'awpata thlhchhâkhei suh vy.
4). Duligia liata thâtihpha chhona rai siekhei ngahaipa châ hra ta, he khih liata Abeipa ta house church a paduapa theih n'awpata thlahchhâ chyu suh vy.
5). Thlahchhâ khei awpa ta ahawna: Mission Pastor S. Lamo nata a sawchanô nô Ls. Christina cha tlâh lei pa ei ta, Doctor zy a pamosapa ta mohôh ngahaipa ama châ. Awnanopa zawpi ta thlahchhâ khei chyu suh vy.
5. THÂTIH LAPAKHYPAZY:
1). Km. RC. Beilaizi Bôhia, Music Coordinator cha târi noh 5-12 August, 2019 chhôh ta Zyhno liata Music Camp a hneikhei aw.
2). Agape Home: MRRC liata atahmâ he atlâhleipa manôh pa 5 y ngâ hai ei ta, sapa nata thlahpa liata tlâh-na ama to theina awpa ta Awnanopazy ta thlahchhâkhei suh vy. Agape Home liata hriatuhpa zydua châ chhao ta thlahchhâkhei lymâ suh vy.
3). KTP Headquarters Pakhypi Resolution hawh ta "Apakhypaki zâ" tahpa Programme cha KTP Branch to liata hnei awpa tahpa châ ta, atahmâno he Siaha Town Branch zy ta, he Programme he ama siekhei ngâhaino a châ. Phanotheina rakha liata Siahatlâh KTP Branch zy ta Apakhypaki zâ he ahmâpha kaw ei ta, apakhy theipa maluh chhao manôh 157 ama châpa ta pahnopa a châ.
6. MARALAND GOSPEL CENTENARY HOSPITAL:
Târi 25 July –1 August, 2019 chhôh Maraland Gospel Centenary Hospital, Siaha Report.
1). Tlâhleipa apamosapa zie – 75
2). Tlâhleipa admitpa zie – 32
3). Ultasound mopa zie – 22
4). X-Ray – 8
5). ECG mopa zie – 5
6). Endoscopy mopa zie – 11
7). Hawsaih pihpa zi – 4
8). Athipa – 1
9). Emergency Case – 10
10) Operation hneipa zie –1
(Published by J. Lalvarliani on behalf of Communication Department, ECM Assembly. Edited by BeiRôkhu Beitâ, Admin, maraland.net.)