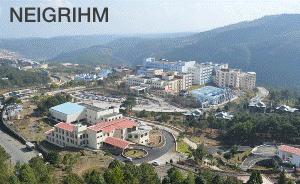 SHILLONG, 25 Thlarâh, 2019 (MNN) – Marasawzy ta, Shillong khihpi liata Thohna O alâluah kawpa North Eastern Indira Gandhi Regional Institute of Health and Medical Sciences (NEIGRIHMS) he apangaipa eima y tyh hra. He Thohna O liana he ta Marasaw ahriapa chhao pahno awpa ama y hra. (Ex. Dr. KT. Laibu, S/o KT. Rokhaw, MLA). Marasaw (students, raihriapa etc.) maluh 800 hlei yna khih a châ hra; kahlâ via daihti liata khichhai kawpa ta eima tlô tyhpa kha atahmâ châ khao vei; Pahânoh liata Mara reih ta Khazohpa reithai akhohpa châta Mara Church liata apakhy theipa a châ heih hra.
Ary liata palâsapazy he NEIGRIHMS apangai khohpazy pahno awpa a châ:-
ATM Card or Debit Card ahneipazy châta apha kaw; Bill pie awpa ta Cash Counter liata vâro pi hâ awpa byuh leipa ta ATM hmâpa ta arainao kawpa ta bill cha na pie thei aw.
Chhôhkha/Apahniehna awpa su (O) na hnei leipa chhao ta palôhru rie apathei awpa châ vei, NEIGRIHMS kiapâh liata hotel mâ nao kawpa hluhpi a y.
Mongyuh reih (English), Hindi na thai lei pa chhao ta na palôhru rie apathei sa rairai kha; châ bao thei awpa ama y. Anodeikua la châbaotuhpa rei ta, noh kha châta Rs.500 rachhôh hryu ha abyuh hra aw.
Na pasana rei zie ta Doctor pangai awpa asianô kawpa ta pachâ ha tua mah y.
NEIGRIHMS Building cha lai kaw ta, chavâta na pahlaopahli leina awpa ta nâ hlailâ ti maih ta hmo to ngia achhuah lymâ mah y.
Mawrâh eima khô ha tawhta cha hmo to amâru kawpa hawhta eima pachâ ngyu thei; NEIGRIHMS liata apamosa pa cha free hluh kaw ta, na pachâ hlâ ta hmoto a mânao via aw. Chavâta sôh nata thih liata palôh riethei kawpa ta y awpa châ vei.
Professor/Doctor zy ta amâ tyu pâna su châ ta thlalôh kaw pata sy.
Doctor nah zy ta "he he vaw nie pachhi tua rai mah y" tah beih vei ei. Liahsa na pasana ama pahnopasia ha nahta ngâlâh thohna (medicine) ama cha pachao (prescribe) aw.
Rairuna/Pahnopasia khohpa na hnei ta achâ khiahta la he ary liata nuhby lia zy he ta na hiahri pasia thei aw:-
Mob. – 9612226215
Mob. – 9336418149
NEIGRIHMS Services and Charges:-
ICU Bed Rent – FREE
ICCU Bed Rent – FREE
OPD Card – FREE
Physiotherapy – FREE
Ward liata y mâ – FREE
ECG – FREE
X-Ray – FREE
Endoscopy – FREE
Biopsy – Rs.100
Private Cabin – Rs.800-900
(Source: FB Group. Mara reih lâta palietuhpa: Admin, MNN. Forward la, apalietuhpa deikua delete hlei leipa ta hmopha tao mah y.)