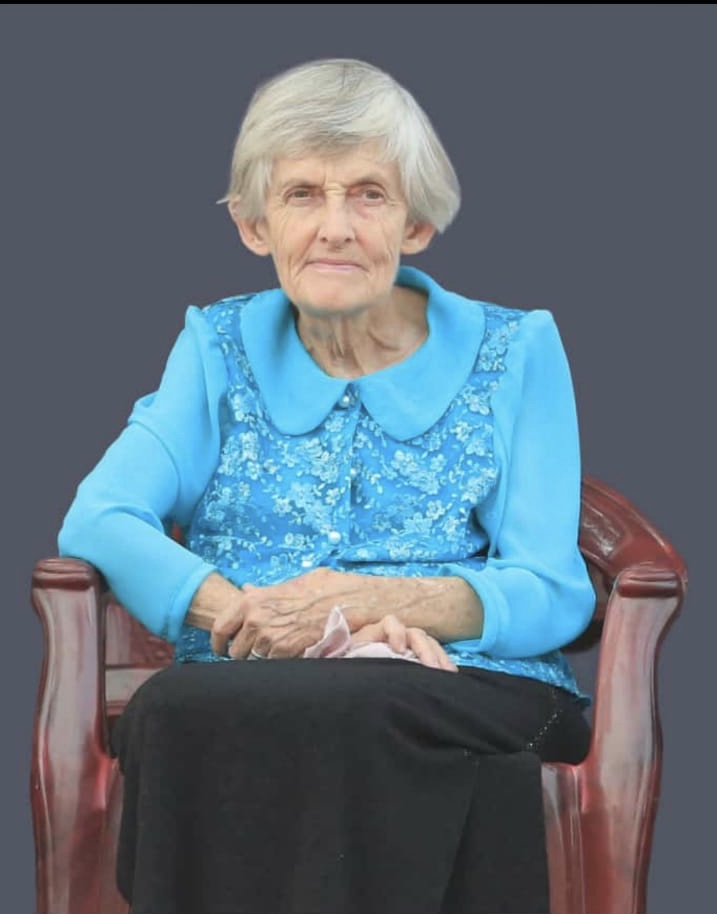 SIAHA, 16 Pachawh, 2020 – Atanoh he Lakher Pioneer Missionaries zy hry liata a mo maniah padei lâh hapa, Pihnô Vaili kô 82 tlohna eima tlôtheipa he Marâsawzy châta Byhnâ a châ hmeiseih. Mizoram liata Zosap Missionaries nah zydua kha ama râh lâ alie khai ei ta, keimo Mara Missionaries nah Chhôkha deikuah, India Independence khai taw nata Mawrâh a bua no chhao ta, Mararâh puasai kholei pa ta, ama zydua ta Marârâh liata luh amâ pabu. Atanoh cha Pihnô Vaili Birthday a châpa vâta ano eima pasôh zie palâsa n'awpa ta a thâti chyupa ei vaw roh.
Vaili he April Noh 16 kô 1938 pata atahmâ ta Puhpa E.Richard nata Pihnô Susan zy pahrâna O (Zâkhano via cha Vaili Paw nata Vaili Nô zy ama pahrâ tyh) Lorrainville, Saikao liata a vaw pih. Ano he chysa âreisi kawpa nata bie-reih hluh leipa chysa a châ. A Nô Tlôsai nata a Paw Albert Bruce zyta saw hropa ama sa khaolei vâta Vaili he pasôh kaw ei ta- Mararâh ama chakaona su y ru âchhi kawpa liata ama saw hneihchhôpa Vaili he ama hrona palyhsa tuhpa a châ. Vaili a pih nota vaw tly tuah chaipa zy cha, atahmâ ta a vahpa L. Mark nata a Nô zy ama châ. Awhti kaw chaba pata hawsaipa Vaili cha amâ kaw hmô.
Lorrainville Saikao liata tlâ a pahrâpa ama châ vâta, Vaili cha a Nô nata Paw ta Home Schooling ama pie. Khôtho lâta châ pachusapa châvei. A Nô nata Paw chakaona raih tiama kawpata a bao lymâ tyh ei. Eima Missionary nah ama hro no khata, lyu amâ tao lymâ. Vaili he lyu raih zy taihta vaw hria khai hapa a châ. Chysa tiama kawpa nata a chahra kawpa a châ.
Vaili a pih tawhta a kô heihpa 1939 liata Adyupih eino na (World War II) â vaw thao ta. He Adyupih eino na heta, keimo râh hla chaipa Mararâh chhao maniah apabua khai hra. He adyuhpi chhô zydua ta eima Missionaries nah zy cha England lâ chhuti awhpa ta sie khaovei ei. Kô 1948 liata England lâta chhuti awhpa ta ama sie. He he Vaili ta England a hmô tuahchaina a châ. Bombay tawhta Balyh ta ama sie. Eikha cha Balyh liata akiahpa Mongyu hawti zy châta, fashion show daihmâ hawhpa pachhuahpanohpa châ ta, he liata Vaili ta Mara Dress ta atobih ta, sâkhana lymâ a la.
Eikha Vaili ta eina chhopa cha, "England liata eima y chhô zydua ta ei nâ (Vaili Nô) ta Mara Reih sai rô ta bie einâ chho a tah! Eima Chhôkha nah ta, nâmo nôsaw hi England liata nama y no zy cha English tlâ cheih hra bao u" maniah ama tah, tahpa ta eina chho. A rônah kaw! He hryta keimo Marâsaw, Maraland eima khôsai nah ta Marareih zy eima zakhei tyhpa he cha pahneichhi âchhi kaw. Keimo nata keimo liata zy Tlaikaoh reih âchhy pi!!.
December noh 11 kô 1968 pakhynoh ta Vaili nata L. Mark cha a rônah kawpa ta Lorrainville Saikao Achhyna-o liata dâh pathaipa ta amâ hnei. Saikao khi liata ahneina rôna chaipa a châ thlyu aw. He nota Vaili cha a Nô ta athisai haw. Vaili ta narô ta âtaopazy cha, Mararâh liata a Chhôkha a hneihchhôpa Pity (Peter Richard- Vaili Nô rihlâpa) sawna Nancy Richard- nata Alice Richard zy ama châ. Puhpa L. Mark ta Thylai Hlychho (Pathy) unawh ta âtao. Laitlei, Pathy, Sapai, Nancy nata Alice zyta Register liata moh amâ signed. He ahneina liata sa âkhileipa vâta zâlâ a châ na taihta Vao zy thie chhipa a châ. Chysa chhao ama hluh chaimâ.
Albert Bruce Lorrain Foxall (Vaili Paw) ta Vaili a kiah noh ta, châ apaphaopa.
📃My Own DarlingViolet
I am giving you into Mark's safe keeping. May you have a very happy married life as your mother and I have had.
I give your mother's blessing and mine. May you know the blessedness of married life combined with the wonderful promise that we are all one in Christ Jesus.
              With all my Love
              Your Loving Daddy
Pihnô Vaili nata Puhpa L. Mark zy ta sawchapaw pa 3- Freddy, Michael, Franky nata chawchanô pakha Susan ama hnei. Ama zydua ta Lorrainville, Saikao liata ama pahrâ.
Vaili he kô 1986 liata KNP President vaw châ ta, Khôpai khih KNP Pakhypi ryureina chhao pahnie kawpata a vaw chhithahpa kha a châ. Rev. Dr. Lambert Carter ta Vaili he Pastor châta a vaw ordained.
Atahmâ cha machâna lâchhâ ama nôvah ta pangai lymâ ei ta, pasana chi nano nanopa ta a tlô thlu ei. Siaha kaw tlô awhpa chhao he hmata ama ru-khei bâ kaw. Atahmâ taihta England liata a first cousin (Apaw unawhpa nata sietanô sawzy) ama y hôlô. Phone nata châpaphaopa hmâ pata bie zy khâ amâ chho tyh hra. A thi hlâta England zy he eikhachhâ tly ta a chhôkha nah zydua atlâbie a chho awhpa byuh kaw tyh. He chôchâ liata Mara Awnanopa nata MADC zy khata palôh vaw hneih ha ei sala a pha kaw awhpa tlai. Atahmâ ta eima CEM Puhpa R.T. Zachônô ta he chôchâ a vaw pahnopa cha, saihei kaw ta, ano tlaita Pihnô Vaili hnota MADC ta eima cha pasiesa aw a vaw tah. Anodeikuah atahmâ cha Siaha chhao hmata a tlôthei khaoleipa vâta England lâ khi tly awhpa ângâ khaoleina thâti eima CEM a chho.
Marasaw zydua ta Pihnô Vaili he kyh pachâ ei chi ta. Ama Chhôkha zy amâ ly ngaita kaw. Gospel Outreach Ministry zawzi ta a Birthday atanoh taihta âly lymâ pa châ ta, reithai amâ chhi ngâsâ. Atakô ta Pihnô Vaili Birthday alyna phusâ zydua âtôh tuhpa Pihnô Ngiarili (Mara Pawngianô) of Australia zy Chhôkha he Khazohpa ta Byhnâ reih tiahlei pie mawh sy. Happy Birthday Eipihnô Vaili. God Bless.
(Vaili ta a hmo kho chaipa cha a thi hlâ cheingei ta Mararâh Awnanopa apôhkhapa ta eima y awhpa he châ. Marasaw 90% zy pita apôhkhana kho pita, khâpa vâta ma eimâ pôhkha-theivei tahpa he pahno byuh âchhi kaw).
Delson Nôtlia
Camp: Delhi