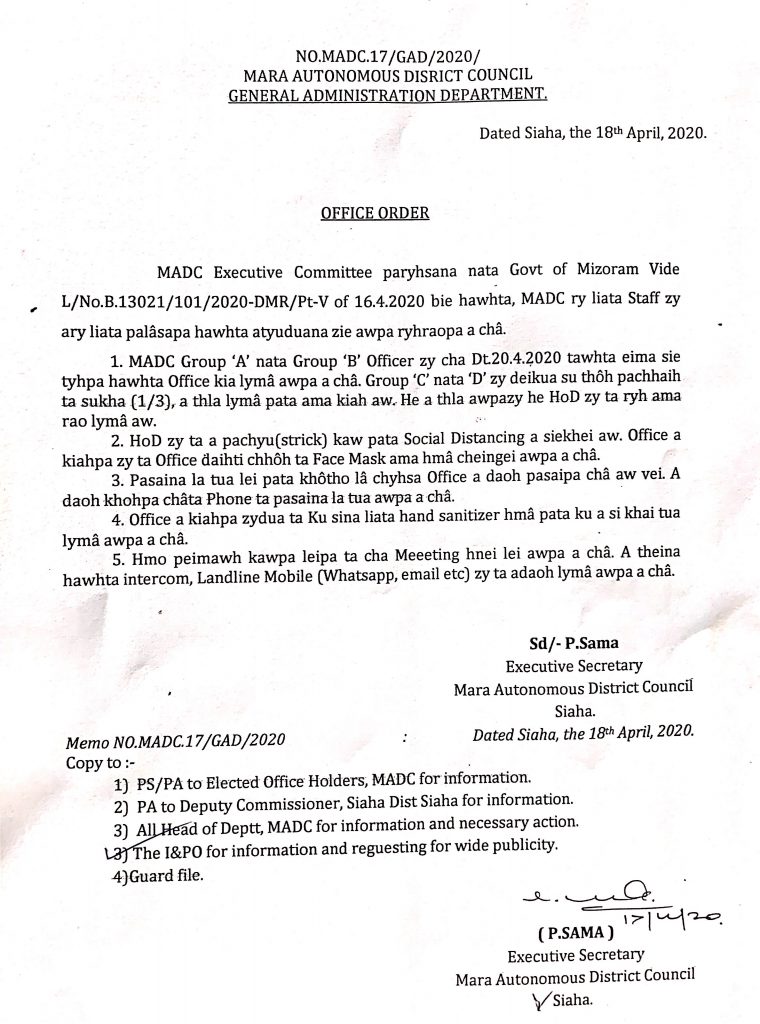 SIAHA, 17 Pachawh, 2020, Chutynoh – MADC Executive Committee paryhsana nata Gov't of Mizoram vide No.L/No.B.13021/101/2020-DMR/Pt-V of 14.4.2020 bie hawh ta MADC ry liata Staff zy, ary liata palâsapa hawh ta atyuduana zie awpa ryhraona taopa cha Puhpa P. Sama, Executive Secretary, MADC ta Office Order (vide No.MADC.17/GAD/2020 of 17.4.2020) a papua:-
MADC Group 'A' nata 'B' Officer zy cha Dt.20.4.2020 tawhta eima sie tyhpa hawhta Office kia lymâ awpa a châ. Group 'C' nata 'D' zy deikua su thôh pachhaih su kha (1/3) athla lymâpa ta ama kiah aw. He athla awpazy he Head of Department (HoD) zy ta ryh ama rao lymâ aw.
HoD zy ta a pachyu (strict) kawpa ta Social Distancing ama siekhei aw. Office akiahpazy ta office daihti chhôh ta Facemask ama hmâh cheingei awpa a châ.
Pasaina la tua leipa ta kôtho lâ chyhsa Office adaoh pasaipa châ aw vei. Adaoh khohpa châta Phone ta pasaina la tua awpa a châ.
Office akiahpa zydua ta hand sanitizer ta tlyma, ku sina liata tlyma ku asi khai tua lymâ awpa a châ.
Hmo peimawh kawpa leipa ta cha Meeting hnei lei awpa a châ. Âtheina hawh ta intercom, Landline, Mobile, WhatsApp/Email zy ta daoh lymâ awpa a châ.
(PRESS RELEASE 27/2020)
Issued by:-
Information & Publicity Office
Mara Autonomous District Council
Siaha