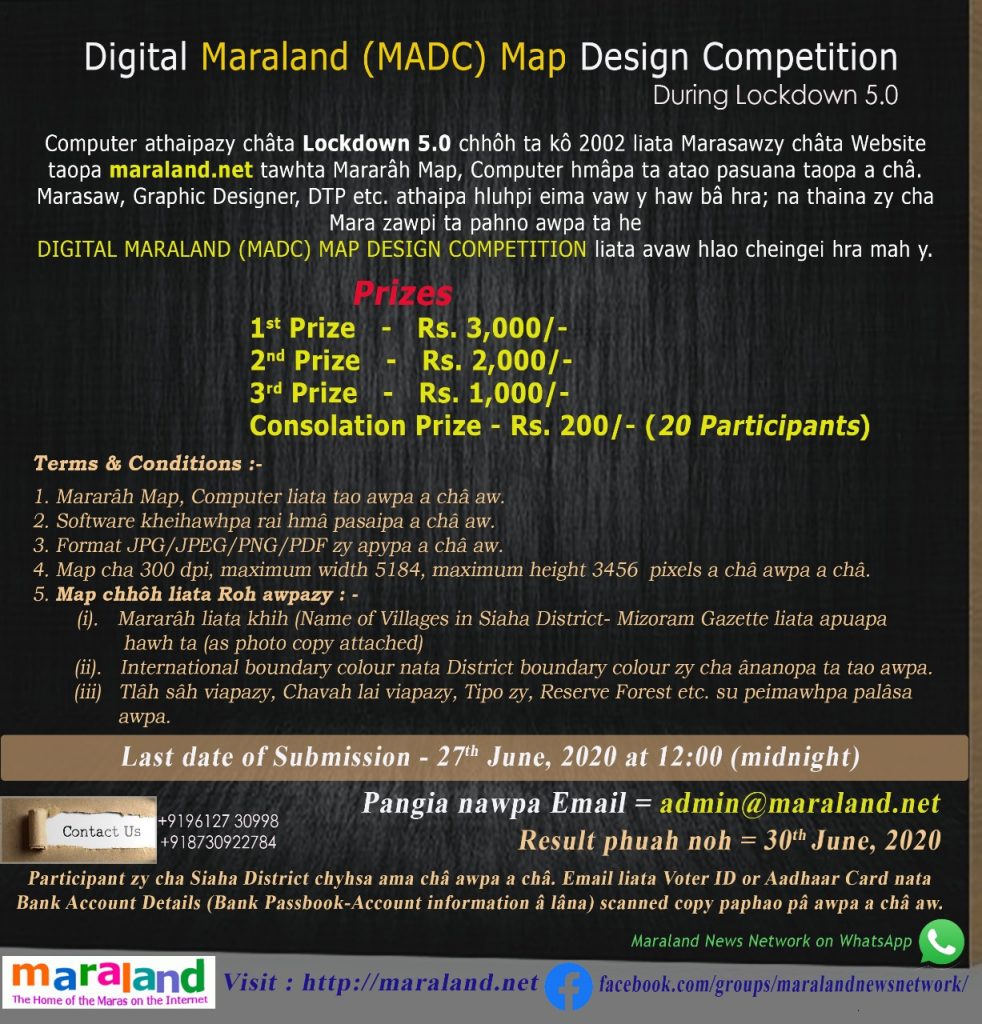 SIAHA, 11 Chhiepa, 2020, Pobienoh – Digital Maraland (MADC) Map Design Competition pachhuahpanohpa a châ.
Computer athaipazy châta Lockdown 5.0 chhôh ta kô 2002 liata Marasawzy châta Website taopa maraland.net tawhta Mararâh Map, Computer hmâpa ta ataopasuana taopa a châ.
Marasaw, Graphic Designer, DTP etc. athaipa hluhpi eima vaw y haw bâ hra; na thaina zy cha Mara zawpi ta pahno awpa ta he DIGITAL MARALAND (MADC) MAP DESIGN COMPETITION liata avaw hlao cheingei hra mah y.
Prizes:-
1st Prize – Rs.3,000/-
2nd Prize – Rs.2,000/-
3rd Prize – Rs.1,000/-
Consolation Prize – Rs. 200/- (20 Participants)
Terms & Conditions :-
Mararâh Map, Computer liata tao awpa a châ aw.
Software kheihawhpa rai hmâ pasaipa a châ aw.
Format JPG/JPEG/PNG/PDF zy apypa a châ aw.
Map cha 300 dpi, maximum width 5184, maximum height 3456 pixels a châ awpa a châ.
Map chhôh liata Roh awpazy : –
(i). Mararâh liata khih (Name of Villages in Siaha District- Mizoram Gazette liata apuapa hawh ta (as photo copy attached)
(ii). International boundary colour nata District boundary colour zy cha ânanopa ta tao awpa.
(iii) Tlâh sâh viapazy, Chavah lai viapazy, Tipo zy, Reserve Forest etc. su peimawhpa palâsa awpa.
Last date of Submission – 27th June at 2020, 12:00(midnight)
Pangia nawpa Email = admin@maraland.net
Result phuah noh = 30th June, 2020
Participant zy cha Siaha District chyhsa ama châ awpa a châ. Email liata Voter ID or Aadhaar Card nata Bank Account Details (Bank Passbook – Account information â lâna) scanned copy paphao pâ awpa a châ aw.
Contact us : +9196127 30998 nata +918730922784
(Admin, MNN.)