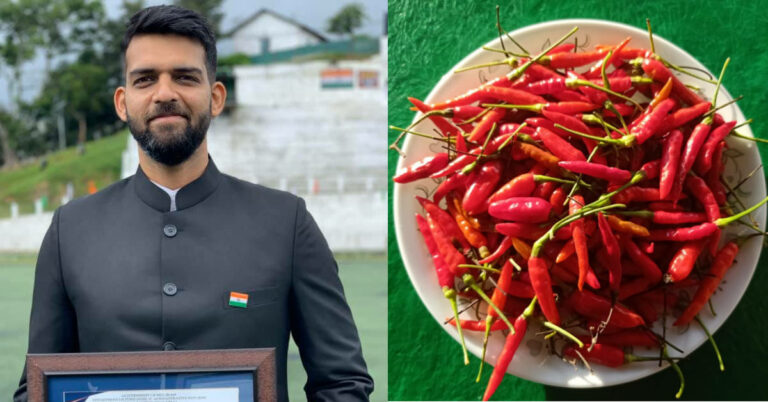 A TRIBUTE TO MR BHUPESH CHAUDHARY, IAS Visionary, Faithful and Hardworking DC of Siaha
Shri Bhupesh Chaudhary and his wife Smt Shashanka, who were both former Deputy Commissioners of Siaha and Lawngtlai Districts respectively, are the 2014 batch of Indian Administrative Service officers belonging to the AGMUT Cadre. He is from Haryana and her from Hyderabad. The couple has a three-year old son named Mawia, who speaks Mizo fluently.
 
The family arrived in Mizoram in the summer of 2018 and immediately Shri Bhupesh Chaudhary was posted first as the Deputy Commissioner of Mamit District. He served there for five months (May September 2018) and was pulled back to the headquarters Aizawl as the Registrar of the Co-operative Society. After serving there for nearly six months (September 2018 February 2019), he was again transferred to Siaha as the Deputy Commissioner of the District. He arrived in Maraland in February 2019.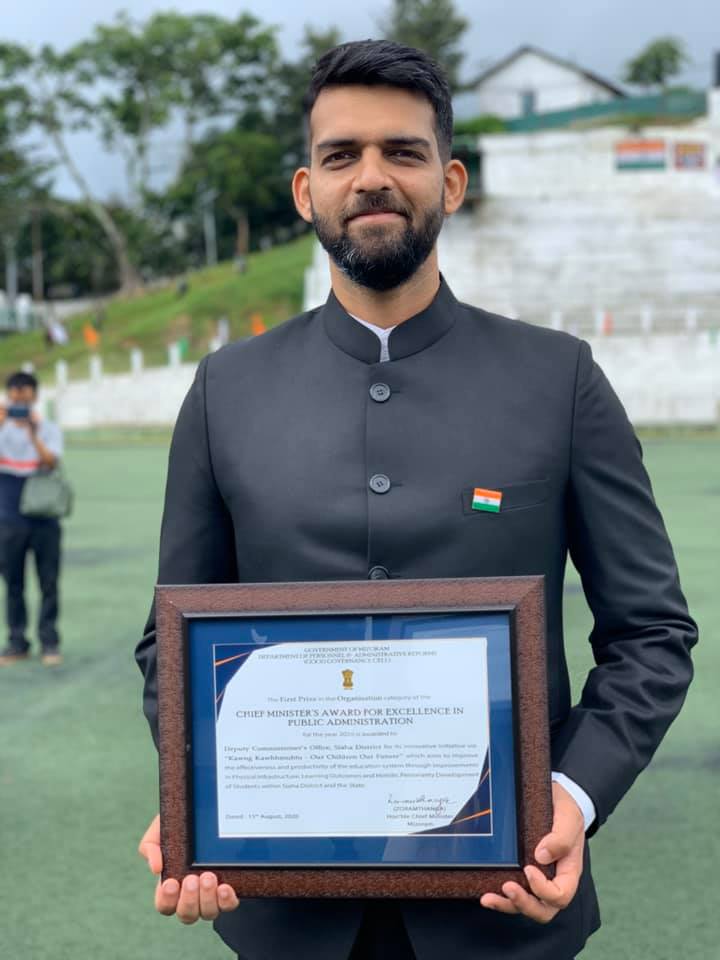 Academically, Mr Chaudhary has a BE (electronics) and MBA (finances) degrees and he had good experiences in the corporate sector as an Engineer and also served as a Consultant for more than 8 years. His last corporate stint was working as a Consultant in a UK based consultancy firm called Pricewaterhouse Coopers.

Mr Bhupesh Chaudhary is a visionary, faithful and hardworking IAS Officer. He is a no-nonsense, courageous and extremely daring officer. He performed his duties without preconception and refused to be influenced by undue pressures of petty and party politics and always stood his ground. Though he respects the authority, yet he has the guts to give an opinion and counsel the authority if any contingency arises.
He has a heart and a will for development of Maraland and its people in all areas of life. He always wanted to make it sure that Central and State governments developmental programs in the District are properly managed, timely executed and funds correctly utilized. He demands hard work and accountability from officers in the District. He is indeed a good public servant. The Central and State governments should take pride in having such a good officer.

His experiences in the corporate world are an added advantage and a blessing for Maraland. He had an out of the box intuition and knows how to rise above his immediate situation. Since Government funding is often limited, he made good use of his corporate experiences and good connections. He would exploit his expertise and make use for drawing funds from the private sector and corporate world for various developmental works for Maraland. The following are some of the notable initiatives that he successfully solicited funds from the private sector and corporate firms during his short stay in Maraland:

Livelihood Generation
Seeing the vast fertile tracts of land with adequate rainfall and water sources, he saw potentials for land and agro-based livelihood for economic developments. He would help find the ways and means for marketing the local products. In doing so, he was able to help in establishing a Turmeric Powder Processing Plant in Tisopi village as well as Chilli Powder Processing Plant in Zyhno village providing livelihood opportunities to the poor villagers with the help of funds acquired through the Corporate Social Responsibility (CSR) schemes.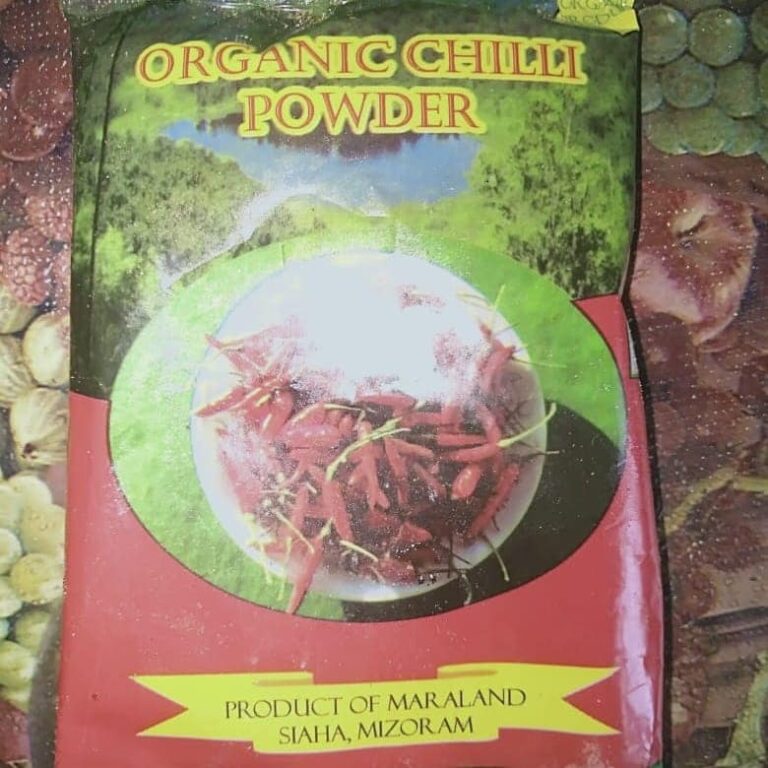 The project has successfully organized the villagers into various Self Help Groups (SHGs) who are now managing the processing units themselves in both the villages. Through these projects, the family income of these small farmers slowly began to trickle and started to improve and in due course had shot up by more than 500%. One may still note and remember the day when Mr Chaudhary walked nearly 20 kilometres of jungle path from Siaha to Tisopi under heavy monsoon downpouring and bleeding from bloodthirsty leeches bites. He has many more visions for the livelihood and economic development of Maraland.
 
Education
To improve quality education and learning outcomes in the Government Schools of Siaha District and to make learning more enjoyable for students, he helped started the Kawng Kawh Hmutu (Path Finder) program, Smart Classrooms and Educational Mobile Lab christened EduFix. This was only possible, again, through convergence with CSR funds. This initiative even won Chief Ministers Award in Excellence in Public Administration.

Health
His concern about the health of the people of the District is unparalleled. He lamented over children as well as adults continue to die in the District from preventable diseases. For this purpose, he initiated a Mobile Medical Vehicle (MMV) program so that rural folks from remote areas can access medical facilities with provision of free medicines. He also provided furniture, equipment and materials for 126 Anganwadi Centres within Siaha District to improve the infrastructure. He also helped obtained an ambulance vehicle and two more are in the pipeline under the CSR program from various companies.

Waste management
He also initiated a waste management program in which a Biodigester with 100 MT capacity was installed for processing wet waste materials within Siaha town. With the help of this Biodigester, wet waste or organic waste could be converted into compost which is being distributed free of cost to all small farmers in Siaha district. In addition to this, he helped procure two new vehicles to improve waste collection for Siaha town. Both the items were again managed under his CSR initiative program. This project was successfully handed over to the Mara Autonomous District Council (MADC).

Mr Chaudhary had a good working relationship with the MADC authorities as well as the village councils. He also worked very closely with the civil societies and various NGOs such as the Mara Thyutlia Py (MTP Mara Youth Organization), Mara Chanô Py (MChP Mara Women Organization) and Mara Students Organization (MSO) for various social and community developmental programs for the region. He has the utmost respect for the Church. He led and participated well in the containment of the Coronavirus in the District.

Within a year or so of his tenure as DC of Siaha, he has travelled the length and breadth of Maraland. As a result of his untiring efforts, the region began to witness far-reaching changes especially in social and economic front. He has more new visions and new initiatives that are in the offing. Maraland has never witnessed such a good number of new initiatives in such a short span of time from a DC. These results demonstrate the robustness of his development model. He is one of a kind. He is a DC Maraland needs. He is the right person for Maraland and undoubtedly peoples DC.

While the people of Maraland and their DC are working together well for various developmental works, after barely a year of service in the land, his transfer order unexpectedly came in the month of May this year (2020). Transfer of officers is the prerogative of the government. This is not contested. However, seeing new visions and unfinished tasks Mr Chaudhary has for the land, the MTP, MChP and MSO make a representation to the State government to reconsider his transfer order. These three NGOs represented the people of Maraland. Understanding the situation, the State government revoked his transfer order in June before he leaves his DC office in Siaha. The people of Maraland are very thankful to the Government of Mizoram for its wise and mature decision. The good work of DC is the good work of the government.
While the people were very much elated with the Governments decision of revoking the transfer order, before the ink dried, sad to say, he was once again transferred to Aizawl in July as the Additional Secretary of the Information and Communication Technology (ICT) Department. The Mara people wondered what must have transpired his transfer, retransfer, and transfer again before even a moon eclipse? Is it because of the great need at the ICT Department? If they didnt know any better, the people could only wonder and take this as a fait accompli, the State government not taking them seriously, worse, not desiring good things for Mara people. If the assumption that Siaha is the least District where the State officials would want to work and stay is true, then why prematurely transferred a visionary, faithful and hardworking IAS Officer who is more than willing to work and stay in the District, with a heart and burden for the people of the land? Are things going really messy here?

Has the fear of the Mara people that they are being accorded a stepmotherly treatment by the State government proved to be right? They wish to be proved wrong about this fear. Nevertheless, they lamented. The old wounds had recurred. They remembered when Mr PP Thawla was stripped of a junior minister of state post within less than a year of his ministership. He was needed for the formation of the government of the time. Because of him, because of him only, they were able to form the government. But when they were joined later by members from a different party, and when having enough numbers of their own, he, a lone Mara in the council of ministers, was thrown away. The Mara people lamented again when Mr Hiphei (late) was not given a cabinet post during the last government. He was one of the tallest politicians of Mizoram. If the Chief Ministership was reserved for the Party President, Mr Hiphei deserved at least a Deputy Chief Minister or a senior cabinet post. But that was not the case. The Mara people were made to be content with the speakers post. The Mara people lamented again when Dr K Beichhua was not given a cabinet post in spite of promises made before the election. They of course were not surprised realizing the fact that he being a Mara. For this reason, the Mara people have a foregone conclusion that, how senior and good leader a Mara politician may have become, it would be near impossible to get an important cabinet post, let alone becoming the Chief Minister of the State.

They lamented again this time because of their visionary and hardworking DCs untimely transfer, that too in spite of passionate and humble appeals from the MTP, MChP and MSO to the Government of Mizoram on behalf of the Mara people. It would be difficult to continue some of his visions and fledging signature programs. It would be a tremendous loss for Maraland. If his transfer was a punishment, the Mara people wonder, what must have Mr Chaudhary done that deserved his head on a silver platter. They could not think of one. What they suspect though is this: The government does not really want the Mara people to develop and prosper, and so it does not want to station a visionary and hardworking DC like Mr Chaudhary in Siaha. The peoples intuition, in this regard, may be wrong and wished it is proved wrong, but ironically, that is what they suspect now.

Rumours have its round that the all-powerful MCS Association made a representation to the State government advocating Mr Chaudharys transfer for reasons best known to themselves. One of the reasons gossiped around, hearsay though, was that the MCS officers felt disrespected. He is being disrespectful to them. Therefore they cannot work with him. He had to be transferred and transferred he was.
The Mara people wish this were fake news and the MCS officers charge of disrespect a bad-faith cliché, as they have greatest respect for their MCS officers. Even if there were some personal differences between Siaha DC and some MCS officers and even if the DC might not have rubbed shoulders with some of them, right thinking Mara people do not believe that responsible and mature people like MCS officers would put their personal agenda and vendetta above the service of the nation. Therefore, they chose not to believe the rumour. But if the rumour were substantiated, that would be a sad story. That would also mean that the MCS officers do not really care a fig about the MTP, MChP and MSO, for that matter, the Mara people. Even if there was a grain of truth in their charge of disrespect, shouldnt the real results of his vision and hard work for Maraland development matter far more than those inflammatory and condescending rhetoric of disrespect victimhood? In the same token, the IAS Association, if they didnt know any better, could also lament about how difficult and alienating it is to work in Mizoram, especially working with MCS officers who have become self-fulfilling in nature. Pray that such a reaction would not arise from IAS officers, remembering their mission of unifying and all-inclusive noble service for this collective nation of nations called India.

The recently released order of precedence by the State government was rubbing salt into the wounds of the Mara people. The democratically elected Chief Executive Member, Chairman, Executive Members and Members of District Council (MDC) of the Autonomous District Councils (ADC) are made lower than that of a Deputy Commissioner of the District or an Additional Secretary of the State. According to the order, these elected leaders can only participate in State functions only if they are invited. And if they are invited, they shall be seated among subordinate officers. This is a painful insult and a great injustice done to the non-Mizo indigenous people groups of the State. The open secret on the part of some of the Mizo elites and politicians seems to have an open book now. These people understand that since the ADCs in Mizoram are constitutional bodies, it would not be easy to abolish them. But the powers of ADCs can be curtailed. In so doing, their modus operandi is to water down, to delay, to put roadblocks and to apply whatever means on their disposal to demean the ADCs. The recent order of precedence is a tip of the iceberg in such a direction.

It must be remembered that the ADCs are "states" within the state. They have all the three branches of the government namely, Legislative, Judicial and Executive Departments, just like State and Central governments of India. This is clearly enshrined in the Constitution of India. Therefore, even if the State government attempt to demean the ADCs and their leaders, it must be noted that the people of the ADCs accord respect to their CEM, Chairman, EMs and MDC on par with the Chief Minister, Speaker and Ministers of the State, if not more, not less. A Deputy Commissioner cannot and must not be higher than the democratically elected CEM, Chairman, EM and MDCs of ADCs.

Politics is cui bono (who benefits?). The transfer politics of Siaha DC is definitely not in the interest, nor for the benefit of the people of Maraland. Aside lessons Mr Chaudhary must have learnt, and some of them probably hard ones, one thing remains crystal clear: He was a visionary, faithful and hardworking DC of Siaha. His good deeds should suffice his protocol relational shortcomings, if there was one. Whatsoever was and is the politics and reason for his transfer, retransfer and re-retransfer, damage is done. The Mara people are wounded and hurt over again. Order of precedence is the latest added salt to the wound.
Maraland will miss Mr Bhupesh Chaudhary, their beloved DC. His memory will linger. He can go from Maraland with holding his head high. He may well go through emotional suffering because of his constant transfers but he can and must take heart, his is a righteous suffering. It is a testimony of his respect for the rule of law and obedience to the authority.

Visions he has envisioned, dreams he has dreamt, programs he has initiated and lives he has touched for and in Maraland will continue to bear much fruits even after he left his beloved Maraland.
The Mara people want to thank Mr Bhupesh Chaudhary and bids him farewell. May he continue to be a channel of blessings to many wherever he is assigned to serve in the days to come!
The Mara people also want to thank the Mizoram government for sending Mr Chaudhary to them.