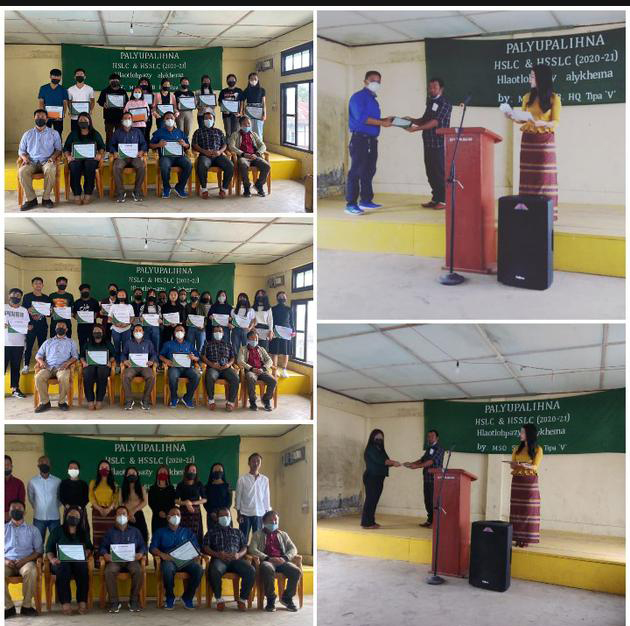 TIPA, 14 July, 2021 – Zâhnia târi 13/07/2021, dawh 1:00 PM liata (2020 – 2021) liata MSO Sub HQ: Tipa Ôna chhôh tawhta achuhaipa HSSL & HSLC liata a taopha patluapa Distinction & First liata hlaotlohna a topazy nata, 100% hlaotlohna a topa School zy alykheina daihti ahmâpa châ.
Atakô Sub HQ Area tawhta HSSLC & HSLC liata liata hlaotlohna ahmôpazy he alykheina chata Distinction – (Citation with Frame) + Cash nata First Division – Citation hlapa ta, 100% ta hlaotlohna atopazy New Light School nata Tipa Centinary Higher Secondary School,Tipa zy hnoh ta alykheina Ryucha hlapa a châ.
HSSLC liata Distinction – 4, First Division – 28
HSLC liata Distinction – 18, First Division – 62 eima hneitheipa he alypa achâ hmeiseih🙏
DETAILED PROGRAMME:
Chairperson : Ls.Ngorangia Solo,Asst.Secy
Devotion : Rev.Jimmy FC. achai (Tipa Biatuhpa)
Short Speech: C.Thanghnuna
Resource Person : Puhpa VL.Thakima Chozah,Principal (TCHSS)
Ryuchâ hlâna : Ls.Dina K.Malsawmhlui,Treasurer
Vote of thanks : VT.Lykhei,President
Covid-19 vâta, Tipa khih khôtho lâta a ypazy deikua cha MSO Branch chhituhpazy siepahliepa ta Ryucha (Citation) paphao aw pata ryraona taopa achâ.
He alykheina Programme hma nawpa liata kyh toti liata maniah baotuhpazy :
1.Puhpa Samuel Hlychho
2.Pihnô Mawii Syhlô
3.Puhpa B.Phillip
4.Puhpa C.Zaicho
5.Puhpa C.Thanghnuna
6.Puhpa VB.Hasa Phiapi
7.Puhpa K.Beirathati
8.Puhpa Bohiabei
9.Satlia KT.Enok
10.MTP Br: Tipa Vaihpi
11.MTP Br : Tipa Bazar
 12.VCs, Tipa V – Ill
He nahzy chô lâ liata MSO, Sub HQ: Tipa mohta alynabie eima reih hmeiseih.
"FOR GOD AND MARALAND"
Sd/- Bohiabei
Secretary i/c Info. & Publicity
MSO Sub HQ: Tipa.