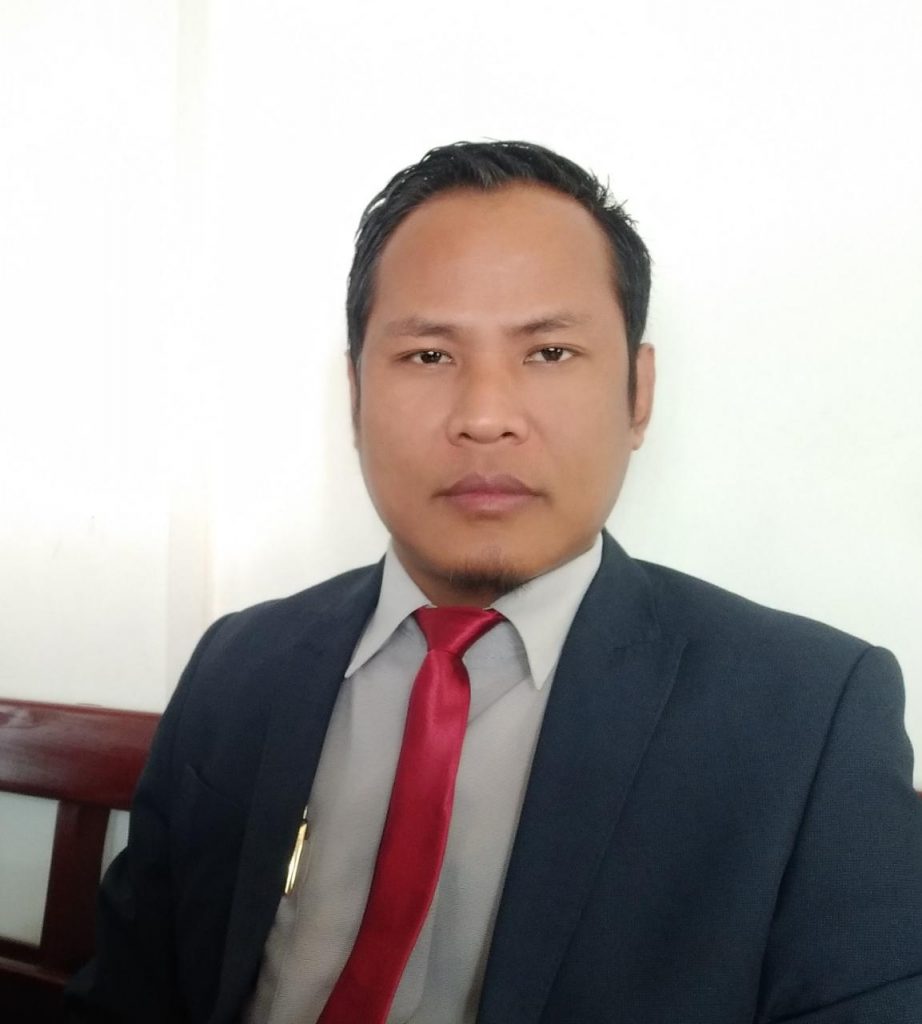 Chyhsapa he hmaokha ta y khoh, pahrâ khoh, khihsa khoh, a deichhy rairie, tah awpa ta taopa eima châ pa vâta khizaw lia he, 'Keimo mopakha ta hrohpapua thei mapi,' tahpa he a sia kawpa ta eima pahno chyu pa a châ. Baotuhpa a ngiahpa sai eima châ pa vâta eimâ bao veichâh thei n'awpa ta a thabypa liata chhôkha peimawh pita, lapi – avahpa akaolâh awpa peimawh pita, viasa chhao eima peimawh hra. He khôla liata a râh nata zawpi mohôh ta; chhitha awpa ta Sawhkha, Awnanopa, Veiseihpa py (NGOs), etc. taihta eima za peimawhpa a châ.
Atahmâ ta eima châ ropa tawhta eima za pachâpahmaoh awpa ta ei kho kaw pa cha Sawhkhâ tlyma, Awnanopa tlyma, Py (NGO) tlyma, etc. liata eimâ chhithana nata siena dâh he a châ. Public Administration achuna bu (subject) eima za moh khiata cha sahlao/py chhithana dâh nata sie zie awpa zy a hlupi za roh ta. Atahmâ hlâ eima râh duasu za mo pata a peimawh viapa hawhta ei pachâpa zy a chyuta ta za reih lai ei sila.
1. Organization : Mongyu reih ta 'Organization' ama tahpa he, "Pachâna nata achhuahna miakhah (common objective) hneipa ta a phu/sahlao (group) ta a hrialâhna nata hmaohkha ta a y lâhna chô ta achhuahna miakhah eima hneipa hlaopatloh khoh na,' he a châ. 'Organization' he sawhkha/Awnanopa/Py, etc. a mohôhna kyh liata chhaichhi peimawh ngaita pa nata a thabypa sâkhah a châ. Sawhkhâ/Awnanopa/Py, etc. he a phu/hmaohkha ta achhuana miakhah hneipa ta rai a hriakhohpa eima châ pa vâta a chhôh liata a pazaopakhyna phapa nata a hrialâhna phapa he a za peimawh ngai ta. Mopakha pachâna ngâlâ ta tlyma, chyhsa chyh ta pachâna ngâlâ ta tlyma siepa he phaleipa ta. Sawhkhâ/Awnanopa/Py, etc. cha thatlô kawpa nata hmasie kawpa a châ thei n'awpa ta a hyutu chaipa tawhta ary lâta a ypa na zydua chhaota âmâ pazaopakhy pha awpa hleikhô ta, âmâ mohôhpha awpa nata pachânazy hmaokha phaopa ta hmoto ama taopa liata âmâ pahno vei châh khai awpa he a peimawh ngai ta.
(Gullick : "Organization is the formal structure of authority through which work sub-divisions are arranged, defined and coordinated for the define objective.")
2. Unity of Command : He yzie cha, "Raihriatuhpazy (employees) ta chôlâ tawhta biepiepa (order) a pietuhpa pakha ngâlâ ama hnei awpa a châ (one superior only)," tahpa heta a za dy via chai aw. Pamosana ta, Sawhkhâ biepiepa (order) âchhuahna alyupa kyh liata Minister nata a Secretary/Director bie âchakhia awpa châleipa ta, Awnanopa liata Moderator tlyma, Senior Executive Secretary tlyma, Executive Secretary tlyma bie âchakhia awpa châ hra leipa ta, Py (NGO) liata President/Chairman nata General Secratary zy, VCP nata VC Secretary zy chhao a za châ khai hra. Sawhkhâ/Awnanopa/Py, etc. lia heta biehnei via châ awpa khona tlyma, taothei viapâ châ awpa khona tlyma, mohpha viapâ châ awpa khona tlymâ, etc. he hyutuhpazy hry liata hmo a y theipa a châ. Biepiepa (order) a pietuhpa ama hluna lia heta Sawhkhâ/Awnanopa/Py, etc. atymâ tyh ta, hyutuhpazy likaw liata aryleina a tlô khoh kaw tyh. Sawhkhâ/Awnanopa/Py, etc. hmasiena hlâta thachhâna nata hnôh asyna he rainao kawpa ta atlô theipa a châ. Chavâta, Sawhkhâ/Awnanopa/Py, etc. ryureina nata biepapuapa (order, etc.) zy he liasa ta a phu/sahlao (group) ta pachia khai tawhta hyutuhpa pakha (one superior only) moh ta papua tyhpa he a pha chai pata a za lyu.
Hyutuhpa pano (Dual Supervision) tlyma, etc. ama yna su lia he ama biehneina nata tao awpa zy a sianô kawpa ta pachhaih (Divide) awpa byuh ta, âmâ vaopa (departments) zy chhao râhrina tao ta, pachhaih (demarcate) khai awpa a byuh tyh.
(Henry Fayol : "For any action whatsoever, an employee should receive orders from one superior only.")
3. Authority and Responsibility : "Authority" tahpa he Mara reih ta a za dy viachaipa cha "Biehneina" tahpa he a za châ thei aw. Merriam – Webster Dictionary liata cha, "Power to influence or command thought, opinion, or behaviour / persons in command, etc.," hawhta a za chhopasia. A yzie cha, 'Chyhsapa lathli ta a pachâna, patuapaluana, hrozie nôcha taihta biepie thei na. Bie a pietheitupa/biehneituhpa, etc.,' tahpa he a za dy via chai aw. 'Responsibility' tahpa deikua cha, 'Maophaohna' tlyma, "Tao awpa ngiatlâh liata pahniehpa" tahpa heta a za dy via chai aw.
Eima râh lia heta Sawhkhâ/Awnanopa/Py, etc. a mohôhna kyh liata hyutuhpa/biehneituhpazy he ama biehneina nata taotheina rakha awpa zy dâh ta ropa nata palâsa khaipa châ ta. He ama biehneina khôlâ liata âmo mopakha athôna, mophana, khi a lâna, etc. châ dei ta hmo ama taopa/hriapa tlymâ a y khiata cha "Dâh a paraotuhpa," tlyma "Chhithatuhpa phaleipa," etc. ama châ thei awpa a châ. Chyhsa thokha ama ku liata biehneina/hyutuhpa châna a vaw y tita, hrialâhpa nata sahlaozy riepatheina zie ta tlyma, rairuna tlôkheina zie ta tlyma, ama biehneina a palâhâh (show off) khohna zie ta tlyma chhithatuhpa chakaona rai a hriapa eima za y thei hra nahta chhao pangiasa â chhih.
Chyhsa thokha cha ama 'Biehneina' ngâlâ hmâ khohpa ta, ama tao awpa (responsibility) uasa lilâ leipa ta chyhsa hropa ngiatlâh liata a thythlu thai kaw pa hlupi eima za y thei hra aw. Aphana/mophana lâ kyh lia ngâlâ ta maophaohna (responsibility) a cha ba khohpa, achhiena/mochhiena kyh a châ nahta maophaohna a cha ba ngâhleipa, chyhsa hropa zy a baibâ thai kawpa, sahlaozy taochheina kyh dei châleipa ta ano taochheina kyh lia chhao ta a râsai hmâhpa chhithatuhpa biehneina a cha ba pa chyhsa zy he ama ku liata biehneina (authority) cha ba sa tlâh awpa châleipa ei ta, chhithatuh phapa châ ngai hra vei ei.
(John Maxwell : "A good leader is a person who takes a little more than his share of the blame and a little less than his share of credit.")
4. Coordination : Coordination tahpa y zie cha, "Hriaparaohna, raihria lâhna, âparaohna (working together)" tahpa he a za dy via chai aw. Sawhkhâ/Awnanopa/Py, etc., zy he chyhsa pakha ta siekhei thei rimâ awpa châleipa ta, sahlao/phu ta hmaokha (group) ta siekheipa aw chi a châ. Hmaokha, ngiatlâh a chi kawpa ta eima raihria chyu awpa liata hriaparaona (team work) phapa hneipa ta raihria khohna he a châ. Achhôh liata adyuhna/âchakhiana (conflict) tlyma, hmo â chatana/aryh leina (friction) tlyma, hmo a pachothlupa/vithlupa (overlapping) tlyma, â chakhiapa/hmo a ryh leipa (inconsistency), hmo reipasia theileipa chi/hmo sianô leipa (incoherent), etc. a y awpa châ vei. Hriaparaona phapa, aryhna phapa nata a zaona phapa a yna lia maih ta Sawhkhâ/Awnanopa/Py. etc. he a thatlô tyh.
(J.D. Mooney : "Coordination is the orderly arrangement of group effort, to provide unity of action in the pursuit of a common purpose.")
He rakhapa he vaw châ chy sa la. Achhâna liata eima pachâpahmaoh awpa ta ei kho kawpa deikua cha, thyutliapazy ta eima pahâ kawpa "Pôpalô (Football)" nahta Sawhkha/Awnanopa/Py, etc. sie zie liata amâ pazaona he a châ. 'Pôpalô (Football)' amâ khaih tyhpa liata Pôpalô a thai kawpa nah zy ta khotaw ta a vaw râkhei ei, hmialâ ta a râ pa nah zy ta vaw pa goal ei, hnôla ta avaihtuhpa nah zy ta ama kao lâ a goal lei n'awpa ta thapi phiata ta vaw vaih ei, kao avaihtuhpa ta avaw zaw ta, ângia kawpa ta pôpalô vaw patu, Coach/Manager ta a py (team) nah zy ama khaihlâhpa nah zy ama pahnie nawpa ta 'tactic' nano nanopa vaw tao ly mâ, a mo la a vaw pha tyh tlai na!
Anodeikua cha, Pôpalô team liata khatluta Coach/Manager phapa, Striker/Forward/Winger phapa, Attacking/Central/Defensive Midfielder phapa, Central/Left/Right back phapa, Goalkeeper phapa, etc. hmâhta y hra ei sala, ama team liata a pakaona/hrialâhna (combination) phapa a y leikhiata la tlô thai pyly veih ei. Khizaw liata Pôpalô team phachaipa tah thei awpa zy – Real Madrid, Barcelona, Manchester City/United, Juventus, PSG, Bayern Munich, Chelsea, etc. tahpa zy chhao he ama Team pôhpalôhpa ta phakaw hra ei sala ama zydua likaw liata azaona/apakaona phapa a y leikhia ta nata ama Team chhô liata ziza chhiepa a pathli ha nahta cha a ryhleina, a takhi-takhana, a maochhiena sai ta bie ta, ama tlôlei ngâthlâh ha ty hra. Achhâna liata Coach/Manager zy pa bâ ei ta, Player thokha zy chhao zuah papua ei ta, a phaviapa zy ama chalei heih tyh hra. Achhâpa cha, mopakha ta a khaih thaipa chi châleipa ta, 'TEAM WORK' ta a khaihpa chi a châpa vâta a châ.
He hawh pyly ta Sawhkhâ/Awnanopa/Py, etc. zy chhao he mopakha ta chhihtha thai awpa rimâ châleipa ta, 'TEAM WORK' pyly a byuhpa a châ. Sawhkhâ/Awnanopa/Py liata ziza phapa pathli ta, achhôh liata a y tuhpa nah zydua a hriaparaohna (combination) pha ta, achhuana miakhah liata ama pachâna zydua a syhpahmaoh ei ta, reiraoh kawpa ta palôru a hmôthaina nata pachâna zydua miakhah phaopa ta ama sie khiata cha hlaotlohna vaw y ta, hmophapa vaw tlô ta, hmasiena nata laiseihna lâthlôh eimâ chhih via rili lymâ awpa a châ.
5. Hierarchy : 'Hierarchy' tahpa y zie cha, 'Achôlâ tawhta arylâ ta a ypa zy avaona, mohôhna,' tahpa heta a za dy via chai aw. Sawhkhâ/Awnanopa/Py, etc. kheihawpa rai vaw châ sala a mohôhna kyh liata kialâ (ladder/scalar chain) hawhta tlyma, 'Pyramid' hawhta tlyma a sie lymâ pa a châ. Pamosana ta, A a sâhchai ta, B ta kaw pazi, C, D, E, etc. zy ta ama kaw pazi lymâ pa hawhpa he a châ. He A,B,C,D,E, etc. zydua he a pazao khaipa (interlink) châ ei ta, a likawh liata a chiepadâhpa a y awpa châ vei. Hmoto maih kaw he achôla tawhta tlymâ, arylâ tawhta tlyma a sie na dâh do kawpa ta (proper channel) a sie lymâ awpa a châ.
(Millet : "Hierarchy is a method, whereby, the efforts of many different individuals are geared together.")
6. Delegation : 'Delegation' tahpa yzie cha, 'Biehneina â sâhviapa tawhta â hnaiviapa lâta biehneina sikhuapa (specific authority) a pie/hlâ pachhuahpa tlyma, chyhsa pakha tawhta chyhsa hropa lâta biehneina hmâ thei awpa a hlâpachhuahpa, etc." tahpa heta a za dy via chai aw. A chyuna zie ta eima za rei khiata cha, "Biehneina a piepachhuahna," za tah ei sila pahnothai a nao chai nahta ei pangiasa. Pamosana ta (a buah thei chaina hawhta) : Sawhkhâ raihriana liata â sahchaipa Group A tawhta arylâ Group D taihta za y ta, he hleikhô ta zawpi ta eima tlypatlohpa nah MLA/Minister/Chief Minister, etc. zy ama y heih hra. He nah zydua he ama beina dâh, biehneina nata hmotaothei zie a lyu tlâleipa ta, anodeikua cha ama biehneina nata hmâ na dâh awpa zie, etc. deikua sawhkhâ ta dâh nata phôh a taopa (Laws/Rules/Protocols, etc.) hawta ama sie chyu awpa a châ.
Chyhsa thokhazy cha kheihawpa (Sawhkhâ/Awnanopa/Py, etc.) liata tlyma biehneichaipa, hyutuhchaipa duasu/dyuchhai liata eima tyuh ha nahta eima ry liata a hriapa nah zydua ama biehneina taihta chhu khaipa ta, ato liata ato avao (control) khai awpa a khohpa eima y thei tyh ngyu na. He he hmophapa châleipa ta, hrialâhpazy châna (designation/status) nata adona (rights) patupakhina, ama pachâna nata khona hawhta Sawhkha/Awnanopa/Py ta âchhuana hawhta raiphapa pahriasa theileina (undue influence) nata Biehneina hmapadoleipa (Authority/Power Corruption or misuse) miakhah a châ.
(Millet : "Delegation of authority means more than simply assigning duties to others in more or less detail. The essence of delegation is to confer discretion upon others, to use their judgement in meeting specific problems within the frame work of their duties.")
7. Span of Control : He yzie châ, "Hyutuhchaipa ta a ry liata a hriapazy (officers/staff) â vaopa kawhna zie (span) hleikhô ta; biepie (direct) n'awpa dâh zy, mohôh/avao (control) n'awpa dâh zy, raihriana kyh liata a hyu (supervise) n'awpa dâh." zy he a za châ via chai. 'Span of Management' tlyma, 'Span of Supervision' tlyma chhao ta ama za ta tyh hra. He hawpa kyh lia heta hyutuchaipa he a theina nata a duahmo (capacity/mental or physical ability) â pahnopasia awpa a peimawh kaw tyh. A hrialâhpa/a ry liata a hriapa na zy (subordinates) nata chhao azaona phapa ama hnei awpa peimawh ta, ama (subordinates) duasu zy chhao a pahnopasia awpa a peimawh kaw. He hleikhô ta hrialâhpazy nata ama raihria/hmotao awpa kyh liata zy bie a chhochhâ veichâhna (communication) zy chhao he a peimawh ngai ta.
8. Supervision : 'Supervision' tahpa he 'Super' nata 'Vision' tahpa biesâh zy pahlypa tawhta avaw puapa châ ta, a yzie cha, "Mokhâh, mohôh, âvao, hrôbieh, raihria hyu (overseeing)," he a za dy via chai aw. Sawhkhâ/Awnanopa/Py lia heta hyutuhpazy ta ama hrialâhpa/ry liata a hriapazy he ama raihria a sikhua kawpa ta nata a pha thei chaina hawhta ama mokhei/mokhâh tyh awpa a châ. Taochheipa tlyma, taopadoleipa tlyma, etc. a y lei n'awpa ta hyutuhpazy ta ary lâ tawhta a chô chaipa taihta raihriana dâh zydua he ama pahnopasia awpa nata khati no rai ta ama mokhei/pahnokhei ngâthlâh ha awpa he a byu tyh.
(Terry and Franklin : Supervision means guiding and directing efforts of employees and other resources to accomplish stated work outputs.")
9. Centralization and Decentralization : 'Centralization' tahpa yzie cha, "Py a siekheina/mohôhna kyh (administrative system) liata biehneina (authority) zydua hyutuhpa nah zy (top levels) ku liata a syhpahmaoh (concentrate) khai ha pa," reina he za châ via chai ta. 'Decentralization' deikua cha, "Biehneina he achôchaipa tawhta arylâ taihta raipataih/hiepatlâh (disperse) khai pa," reina a châ via chai. Centralization nata Decentralization â za nano via chaina cha, "Biechhâna taona (decision making power)" kyh lia heta a za châ via chai. Ama phahnaina chhao y rairie hra. Centralization ry liata cha arylâ ta a ypa nah zy heta biechhâna he ama kho ta taotheileipa ei ta, a chôchaipa (top level) liata a ypa zy bie hawhta sie awpa a byu tyh. Decentralization ry liata deikua arylâ ta a ypa nah zy chhao ama ku liata 'Biehneina (authority)' piepa ama châna rakhapa liata biechhâna ama tao thei ly mâ. Eima râh lia heta kao hluhpi liata 'Decentralization' hawhta sie thlâh taraw pita, chô lâta biehneituhpazy ta ato liata a chahraohpa ta, biechhâna ama taopa a hlu kaw thei hra nahta pangiasa â chhih. He he hmopha kawpa za châ hleivei.
He a chô liata eima vaw reipa zy hleikhô ta "Line Agencies, Staff Agencies nata Auxiliary Agencies' etc. chôchâh zy chhao a hlupi rei awpa a y. He rakhapa he vaw châ chy sa la.
Suggested Readings :
Avasthi., Dr. A., & Maheshwari, S.R. Public Administration. India, Lakhshmi Narain, 2017.
Lakhshmikant, M. Public Administration. New Delhi, Tata McGraw-Hill, 2011.
Sharma., M.P., Sadana., B.L., & Kaur, Harpreet. Public Administration in Theory and Practice. New Delhi, Kitab Mahal, 2010.
– F.C. Beira Chhuady,
Camp : Aizawl.
(Posted date: 17 July, 2021)